Did you know Spartoo? It is the first marketplace exclusively dedicated to fashion and shoes, and has been operating as such since 2015. In figures, Spartoo has got 10M unique visitors and 8M active users.
Advantages of selling on Spartoo
If you sell on this marketplace, you can benefit from the following:
They are specialized in fashion and shoes, but they are also opening up the following categories: decoration, home clothes and beauty.
They sell to 20 countries around the world, including China.
They currently have more than 7.000 brands and more than 350.000 models selling on their marketplace. And, to a great variety, a greater number of buyers.
They have their own FBA service, Toobone. Anyone who sells in marketplaces will definetely know how important and beneficial it is to have a logistics service. We will explain it in depth later.
They ship more than 3 million packages a year.
They are responsable for customer service in each country. Another hoot.
They have an advertising service.
In case of fraud, they take care of all associated risks and expenses.
Disadvantages or important points to consider before starting in Spartoo
To begin with, the fact that they reach so many countries is a plus point, but don't get too excited either. The first thing you should know is that
you shouldn't start in another country until you have properly set up your store in your native country
.
And then, you have to investigate which countries are you most interested in getting into.
The main countries in which Spartoo sells the most are: France, Italy and Spain
. Germany would go in fourth place, but we have been told that in this country there are many returns. So let's skip it and place the next in line fourth, which would be
Portugal
.
So, investigate which countries are worth entering depending on what your products are, their size, their dimensions, etc. because, yes, they do reach China, but it probably won't pay off for you as a seller, because it will make your prices uncompetitive, as you'd have to bear high shipping costs.
More things, keep in mind: you can start selling in whatever countries you want but, for each one
you will have to take care of translating the catalogue yourself
. And good translations are almost as important as good product images. How many purchases will have been lost due to bad translations. Althought, it should also be noted that this is not even a negative point, since in other marketplaces where they do offer translations services, you end up going to countries where it's not worth selling your products.
Spartoo has no advertising service
, rather than a couple newsletters, but nothing else.
Regarding customer service
, Spartoo does not differ from the vast mayority of marketplaces, and you won't have contact with your customers. To manage customer service there are two levels:
Level 1: quick inquiries, which do not need attention from the Seller. Spartoo handles them itself (example: Where is my order?)
Level 2: when it is required to speak with the Seller (example: returns). But, even at this level, you will nevel deal with the customer directly, always through Spartoo.
As this is the case with many marketplaces, we always recomed strategies to capture leads through packaging. We usually talk a lot about this, and we show examples of it on the #GoldenLetter newsletter, which you can find ar victorgbarco.substack.com.
How much does it cost to sell on Spartoo?
There are no initial fees for opening a merchant account on Spartoo. But
you do have to pay a monthly fee of 39€ for each country in which you are an active Seller
.
There is no binding contract either, so you can break your relationship with the marketplace whenever you want.
That said, the marketplace also
takes a comisión of 20% of the price
(VAT included) including shipping costs.
The purchase process, step by step
The purchase process on Spartoo would be the next one:
The customer purchases the product. You can pay using your credit card or via PayPal.
Order notification, which the Seller will receive.
The seller will prepare and ship the order, within a maximun period of 48 hours, and must also provide a tracking method (if they are not using TooBone)
Spartoo handles customer service personally.
At the beggining of each month, the seller will receive the amount for the sales, minus the comisión the marketplace takes
In case of a return, Spartoo reimburses the customer and does not take the comisión from that sale.
What do I need to Start selling on Spartoo?
You'll need to meet some requirements to start selling on this marketplace. Because not just anyone can enter, but you have to ask for permission, and therefore they have to accept you.
First and foremost, you need to have, at least, 150 product references (not counting variations in color or size). It is a lot, we know, and in some categories they may make exceptions, but inngeneral, they seek to have a lot of variety to push the wheel of clicks-sales-reviews=positioning. If you don't have that amount of references, you may not even be interested in entering, unless you are a well-known Brand and you already have your own image and branding done. If this is your case, you may be accepted with less.
You can sell on Spartoo if you are a Brand or distributor.
Your product images must be of high quality, with white or light gray backgrounds (if you decide to use TooBone, Spartoo has a photographic studio, where you can get the most out of your product photos). Regarding the images, it should also be noted that you always keep in mind, if you sell on more than one country, that the images Will be the same for all, so you should consider whether it is convenient for you to use a more universal language. And, not only for images, but this is also very important for packaging.
The product description's file is created by Spartoo, but you will need to provide them with certain information as a seller, so that they can create the file.
Each of your products will need a unique identification code, an EAN.
If Spartoo contacts you, you must reply within 24 hours.
To launch your store, you must start in your country of origin, although later you can open up to other countries.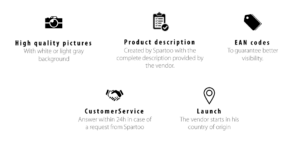 Spartoo's shipping and return policies
Your shipments should take between 2 and 3 working days, they must have a tracking method and the shipping costs should be less than 5€.
For international shipments
, if you decide to manage them on your own, you must define a carrier per country and a maximun delivery time of 7 days (shipments for les than 5€ are also a requirement). The expenses / carrier that you define for one country do not have to be the same for another country.
You must enable the management of returns, as well as international returns.
Spartoo has a strong negotiation power due to its large size, so you can benefit from favorable conditions and prices if you use its transportation solution, Toopost. If you use it,
you'll have access to more that 30 carriers in all the countries in which they operate
. Balance it because, depending on the amount of returns you usually have, you may benefit from using this program, or not. But, really, we always recommend that you manage the returns yourself.
If you have a low ratio, such us 2 or 2.5%, we advise you to do the following:
calculate how much does it cost you to manage these returns, and pass it on to the price of your products. Increase the RRP about 10 or 15 cents, nothing too far, and thus you can make sure that you can sustain the entire return process without getting into bigger things.
Of course,
always try to keep a low ratio
, because if not, you are going to end up doubling the price of your articles. Take advantaje of the product's file to clarify all the important things: the benefits of your product, for whom it is recommeded and whom not, how it is used, etc. This way, you will clear up customer's doubts and avoid orders that end up in a return due to ignorance.
How does this benefit me?
Well, in addition to obtaining more reasonable prices, you can promise your customers deliveries that are more adjusted to real time, thereby increasing the conversión rate of your sales.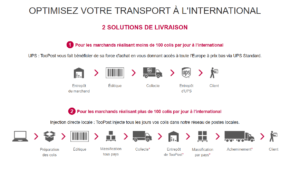 These are the enterprises Spartoo works with: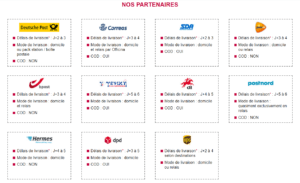 The possibility of integrating your catalogue
This marketplace offers various possibilities to integrate your catalogue, which is always a plus.
The integration of your catalogue can be done from:
An CSV or XML file
Via webservice
Or through one of these integrators:

These are all the integrators you can work with for now. But they do not hesitate to recommend that, if you work with another integrator that is not on the list, you can get it touch with them to negotiate whether to add it or not.
Spartoo's FBA, TooBone
Here comes the big thing. For starters, any marketplace that has a a Fulfillment service has a point in its favor. The Fulfillment service consists of leaving in charge of the marketplace all aspects regarding storage, shipping, returns and post-sale service. You'll just have to worry about sending your inventory to their wharehouses.
And even more so if you intend to sell internationally, so you won't have to worry about renting or buying warehouses in each country you want to sell in.
The detailed services that TooBone offers are:
Customer service: with more than 60 operators who speak, together, 22 languages, to provide a 100% effective service.
You will have a unique Project Manager for you as a seller, up to 3 IT developers and up to 3 marketing project managers.
Its European logistic center is located near Lyon, with a capacity of 40.000 m2 available to store your stock. And they are currently in the process of puerchasing another one.
They have partnered with 15 local delivery companies to get your orders in the shortest posible time, even to the most remote places.
They have B2B and B2C logistics.
They manage stocks and prices in the way you prefer, store by store or centrally, but always in real time.
They can deliver orders at home or in specific stores.
They have their own professional photo studio.
And, in addition, they have the possibility of connecting all the products in the following marketplaces: Amazon, Cdiscount, Spartoo, Allegro, LaRedoute and Zalando.
This would be, on a timeline, the days it would take to get the entire Fulfillment process ready:

In just 120 days, your products would be available in 21 countries.
But, keep in mind what I told you at the beginning,
do not go crazy to all countries
. Investigate, investigate, investigate. And go very little by little.
You can choose to enter a country and either take care of the logistics yourself, or to use TooBone. But you won't be able to enter France and decide that you will manage some of your products yourself and some by their logistics program. That is, in each country you will choose the option that suits you best, but always with your entire catalogue in full.
If you decide to use TooBone for X country, you must put your entire catalogue for that country.
You should also know that, in order to store in their warehouse in Lyion, it is very likely that you'll need to obtain a French CIF.
How much does TooBone cost?
Now, let's talk about money. Now you will see some tables that show the prices for France and the prices for international, as well as what it costs to store product in their warehouse, depending on the type of product it is.
The zones that appear in the table to the right are equivalent to:
Zone 1: Spain, Germany, Portugal, Holland, United Kingdom, Belguim and Italy.
Zone 2: Czech Republic, Poland, Hungary, Greece, Bulgaria, Romania, Slovenia, Croatia and Slovakia.
Zone 3: Sweden, Denmark and Finland.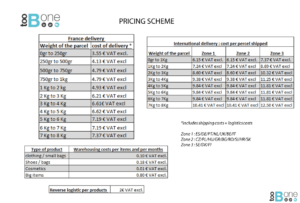 Conclusion
Now whats left is for you to measure what types of products you have, and if they would be suitable to be sold on Spartoo. Balance the cost against the visibility it would provide you. But, our opinión is that a logistics service as powerful as TooBone is worth taking into account.
As always, we recommend that you try. You won't be able to see if it works if you don't step out of your confort zone. And, if at any point in the process you get stuck, you can always count on our help and advice.